Tal Brosh is a London based illustrator and M.A graduate from the London College of Communication.  
Brosh has produced an illustrated history of the Bethnal Green Nature Reserve in four incarnations: a medieval meadow and market garden, a Victorian church, a war-time bomb site and an apothecary garden called Phytology. The work imagines these slices of the space's life that has seen nurture, worship, violence and then nurture once again. Each new piece of work is layered upon the previous image, creating an evolving artwork upon the Phytology billboard.
"My work at the Phytology site is about two things – relationship and layers. I'm interested in the layers of history that make up a space. Like digging into soft soil, the deeper you delve the more you find.
People have been part of the site for hundreds of years. I have drawn from four moments of the site's past to create four artworks. The first is inspired by the earliest reference to the site in the 18th century, when it was a field sustaining a community. One hundred years later, we find a church and impassioned worship, sustenance of a different kind. Then, in the 20th century, war, bombs and manmade destruction arrives. Finally, the land's present incarnation – a place nurtured by people, which nurtures them in return."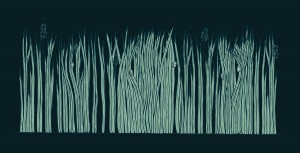 Records and old maps show that fields, market gardens and nursery gardens persisted here from medieval. In 1717 records describe the area as '47 acres of meadow and pasture'. When industrialisation arrived in the 19th Century it brought urban poverty with it and an end to rural Bethnal Green.
In 1839 the Bishop of London called it 'one of the most desolate parishes'. He undertook to build ten new churches and in 1842 the acreage was bought and work on St Jude's began. The church took four years to build and finally opened its doors in 1846. It was a grand church, big enough to hold one thousand worshipers, and performed an active social functions with library, food kitchen, institute and school.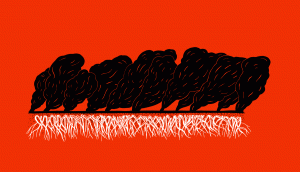 In 1941, during the Second World War, St Jude's church was bombed and totally destroyed. It is estimated that 80 tons of bombs fell on the Metropolitan Borough of Bethnal Green alone and the East End was a scene of devastation, with large areas derelict and depopulated. War production was changed quickly to making prefabricated housing, and many were installed in the bombed areas and remained common into the 1970s. Today, 1950s and 1960s architecture dominates the housing estates surrounding the Phytology site.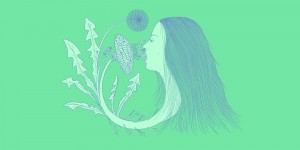 The Bethnal Green Nature Reserve has now returned to its traditional roots. Over the past two years the Phytology team have established an apothecary garden with thirty-two varieties of plants common to the streets of London and urban ecosystems across the country. Generally regarded as common weeds, each plant has been selected for its on-going use in phytotherapy and traditional medicine.
Brosh's illustrations was presented on the Phytology billboard between March 6th and July 12th, 2015.