September 8th 2019, Phytology, Bethnal Green Nature Reserve
Explore the shift from Summer into Autumn through botanical drawing and the elemental teachings of Ayurveda. The day-long workshop will explore how aligning better with nature's cycles increases resilience.
In cultures across the world, our understanding of good health has been linked to balancing the energy of the elements. Autumn offers us a time of transition. The element of air rises, bringing more space and inspiration into our lives. The plants shed their leaves, reminding us that we, too, can let go of what we no longer need.
Led by Belle Benfield, herbalist and illustrator of The Sensory Herbal Handbook, founder of heARTfelt herbs & Shumaisa Khan, yoga health coach and community herbalist.
The workshop session will explore the following;
Harness the power of plants by making your own transition flower essence

Develop your drawing skills and skills for deep observation


Deepen your understanding of elemental medicine through Ayurveda and Sensory Herbalism

Get to know your seasonal, native plant medicines

Understand the rhythms of your body in relation to the seasons and the elemental shifts through the year to better support your health – both physical and beyond physical
Schedule
10am – Site introduction and Tea Ceremony
10.30am – Elemental observation and introduction to elements through Ayurveda and Sensory Herbalism
11am – Botanical drawing in the Phytology Medicine Garden and surrounding woodland
12pm – Making plant based medicine
1pm – Bring & share lunch
2pm – Drawing session with technical guidance
3.30pm Closing ceremony and medicine bottling
Investment: £60.00
Concessions tickets available – please email belle@heartfeltherbs.com for more details.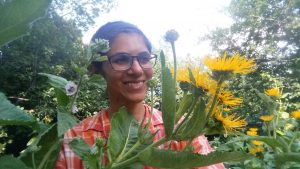 Shumaisa Khan
seeks to cultivate greater alignment with nature's rhythms and deeper connection with wildness for personal, collective, and planetary healing.
..
Having trained in social sciences, permaculture, and Ayurveda-based  health coaching, Shumaisa weaves various ways of knowing into her online group coaching and in-person workshops, helping people access their own wisdom and wisdom from the living world.  She has found that plants are amazing teachers and portals for insight, and loves to facilitate experiences that connect people with our green allies and with each other.
.
She is also a former academic, and has taught and done research around environment and inequality, sustainable food, and permaculture in university and community settings.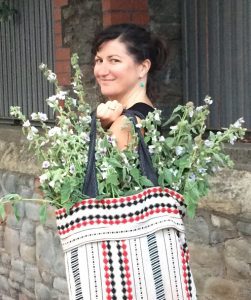 Belle Benfield
is an artist, sensory herbalist and wanderer, singing tales of the land through art and plant medicine. She is the founder of Heartfelt Herbs and illustrator of the Sensory Herbal Handbook.  She works as a healer, guiding her clients on their healing journey with herbal medicine, authenticity coaching and movement in clinic and in group programs and workshops.
..
Belle's international art practice explores explores ways in which we can build resilience to austerity and the ongoing assault on our natural environment by developing the relationship between the plants that grow around us (or that we cultivate), our bodies and well‐being.  Her medicine garden in Cornwall is a hub for the bees and for making love-filled plant medicine.